The sun came out on Friday, so we rushed the Schirra-1 vehicle to the pad for a couple quick test launches. It uses NSA recovery, with too large a parachute as you'll see, and a cable-tie launcher.
The parachute deployed prematurely on the first launch, but worked fine the second. I have made improvements to the design by adding 3 small blocks on the rocket body to keep the nosecone straight during flight.
Launch Pressure 50 psi
Load fraction ~45%
dry weight 3.8 oz.
Construction & launch:
http://www.water-rockets.com/article.pl?101
Video: [youtube]
[/youtube]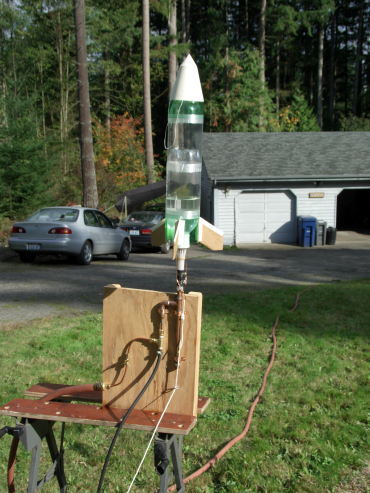 Dedicated to Walter M. "Wally" Schirra, the coolest of all the original 7 Mercury astronauts. The only astronaut to fly in Mercury, Gemini, and Apollo space vehicles.